Global Textiles and Luxury

International Workshop
Copenhagen, November 21st and 22nd 2013
Costumes, Clothing, Consumption & Culture (CCCC)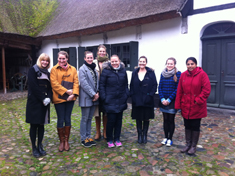 The CCCC programme was established at CTR in order to provide a platform for early modern scholars and graduate students associated with the CTR or living in Denmark to network, and to integrate in the activities of the CTR.
The first workshop brought together all members of the network for the first time. Together with our colleagues from universities and museums from Denmark and Britain, we spent a long and intensive day at the Centre for Textile Research, to discuss textiles and their uses and meanings in a global and transcultural context.
Although we all seem to share an interest in early 'globalism' to some extent, we also have a wide range of approaches and expertise within the project, ranging from economic and historical investigation to material culture, art history, and archaeological analysis. This created a lot of excitement amongst all of us, and showed that we have a strong potential to investigate and create discussion of textiles in a new way.
We started the two day-event with wonderful presentations by our Ph.D. students and postdocs, Vivi Lena Andersen, Charlotte Rimstad, Vibe Maria Martens, Toolika Gupta, Karolina Hutkova, and Peter A. Toft, all of whom focused on textiles and clothing in the global context. Many of them shared an interest especially in trade and cultural exchange between Northern Europe and India in the early modern period.
The rich variety of presentations was followed by the plenary talk by Prof. Giorgio Riello from Warwick University, who spoke to us on the topic of Luxury or Commodity? The Success of Cotton Fabrics in the First Global Age. Giorgio Riello's presence was much valued not only for the great theoretical framework that he shared with us through his paper, but his contribution to the general discussion concerning the aims and future of the project was extremely important. In the final discussion, we raised a number of questions and problems concerning textiles in relation to terminology and everyday practices, as well as the display of artefacts in the museum context.
Visit at Amager Museum
We ended the two-day workshop with a visit to Amager museum, where we learned with Laila Glienke and the museum's director Ingebor Philipsen about the history and costumes of Dutch settlers of the 16th century.