Margrethe Hald: the Life and Work of a Textile Pioneer – new insights and perspectives
With generous support from Stiftelsen Agnes Geijers fond för nordisk textilforskning, Aage og Johanne Louis-Hansens Fond and Beckett-Fonden to Centre for Textile Research (CTR), UCPH, a research project on the pioneering Danish textile researcher Margrethe Hald commenced in September 2020.
You can follow the project on: MARGRETHE HALD | TTC (traditionaltextilecraft.dk)
Margrethe Hald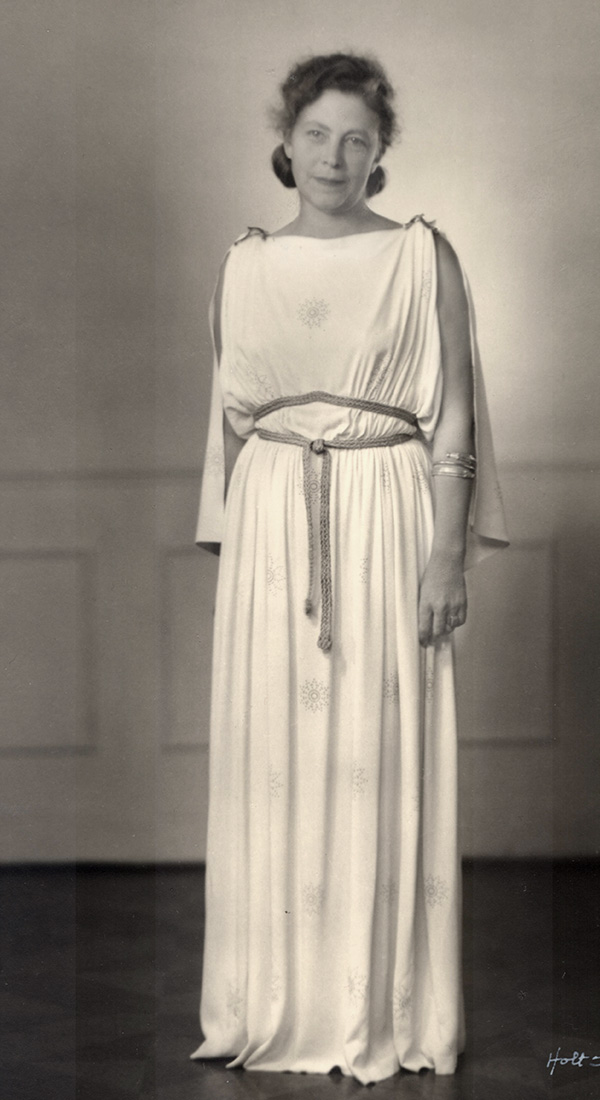 Margrethe Hald (1897-1982) grew up on a farm in Jutland and trained as a weaver from a young age. In the 1930's she was hired by the National Museum of Denmark to make reproductions of clothes from Danish prehistory e.g. the Egtved Girl's costume. In 1939, she became an assistant at the museum, in 1947 she was promoted to curator, and in 1950 she was granted the title Dr.phil. for her dissertation Olddanske Tekstiler, which was published that year (an English translation was published in 1980 as Ancient Danish Textiles from Bogs and Burials). Hald thus became the first woman to obtain a Dr.phil. in archaeology in Denmark, and she accomplished this without prior academic education – not even a high school diploma.
Margrethe Hald's research represents a rare virtuosity in its combination of scientific methods ranging from ethnology over archaeology to history as well as craftmanship, which still inspires textile research as an interdisciplinary field today. She understood that textile research could not be limited to just one particular scientific approach. She produced groundbreaking research by combining e.g. cultural history, art history, ethnology, and archaeology.
As a continuation of the work done in 2019 when CTR's Margrethe Hald Archive was digitized (Introduction to the Margrethe Hald Archive – University of Copenhagen (ku.dk)), a research group was formed at CTR in the beginning of 2020. Thanks to one more grant from Stiftelsen Agnes Geijers fond för nordisk textilforskning, the first part of the research project on Margrethe Hald's pioneering work as a textile researcher and museum curator took place from September 2020 to August 2021, and thanks to funding from Aage og Johanne Louis-Hansens Fond and Beckett-fonden the second part began in September 2021.
The first part of the project (funded by Stiftelsen Agnes Geijers fond för nordisk textilforskning) revisited Hald's considerable research output, her immense private and professional correspondence in the Danish National Archives and the archives of the National Museum of Denmark. Her travel logs and photographs were utilised in order to revitalize and create new understandings of her groundbreaking research with a focus on her travels to Latin America and the Middle East, and her research on the so-called 'tubular loom'.
The second part of the project (funded by Aage og Johanne Louis-Hansens Fond and Beckett-fonden) focuses on Margrethe Hald's struggle to make a career for herself as a scholar and curator at the National Museum of Denmark. From her letters and notes, we discover the loneliness she felt at her place of work, especially during WWII, when it became more difficult for her to visit her family. At times, Hald even considered leaving the museum altogether rather than waiting and hoping that she would one day be made curator. This aspect of the life of a researcher as well as the personal costs of choosing an untraditional way of life, are important to draw out when trying to understand the circumstances of pioneering women. Furthermore, it can shed light on the continuing discussion on equal rights within academia and on the job market in general.
The project combines a plethora of sources mainly from the National Museum of Denmark, Centre for Textile Research, and the Danish National Archives.
The personal files and material from Margrethe Hald at the National Archives is particularly rich, consisting of 12+ archival boxes with personal papers, passports with travel stamps and personal letters. The material was made available to the public in 2013, 30 years after the death of Margrethe Hald.
The overall goal of the project is to actualise and contextualise Margrethe Hald as one of the pioneers of textile research, who represented a virtuoso interdisciplinarity that continues to define textile research today. Thus, our aim is to present her groundbreaking research to a new generation of textile researchers – and to uncover the life of a deeply unique human being and pioneering woman scholar.
The CTR research group consists of
Internal researchers
Contact
Project manager
Eva Andersson Strand
Docent, Director of CTR and assoc. prof. in archaeology
Saxo Institute
Annual report 2021