Margrethe Hald: the Life and Work of a Textile Pioneer: new insights and perspectives
With the generous support from Agnes Geijers Fond to Centre for Textile Research (CTR), UCPH, the small archive at the CTR was reviewed and systematized resulting in the digitalization of publications and later slides published on the CTR homepage in 2019: The Margrethe Hald Archive
During this work, it became clear that there is much more to the story, including a large amount of unique material archived at the National Museum of Denmark as well as the National Archives, which has never been researched.
Margrethe Hald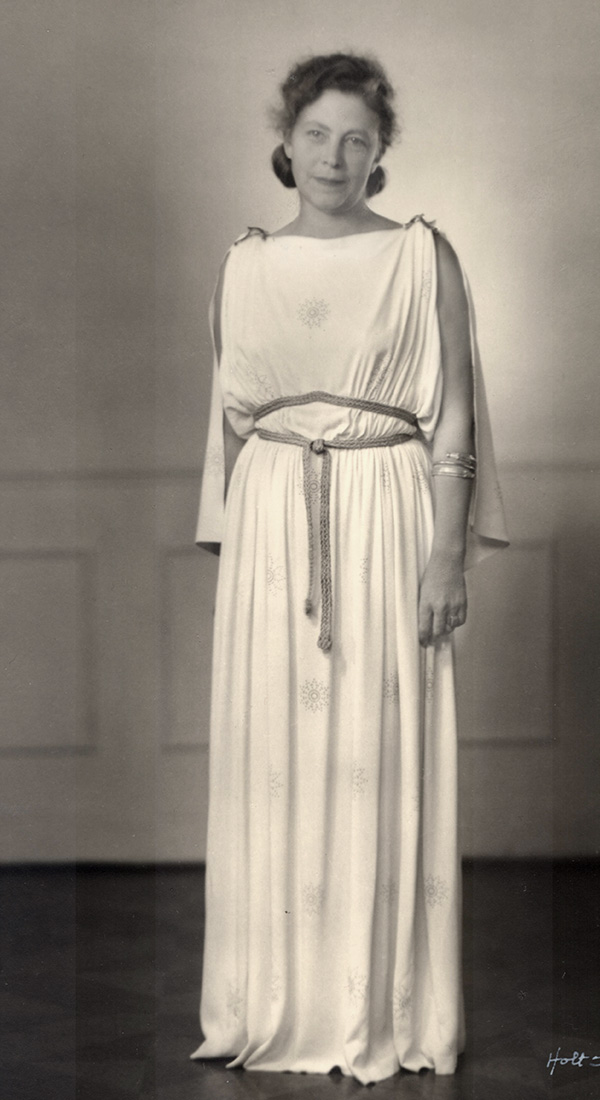 Margrethe Hald's research represents a rare virtuosity in its combination of scientific methods ranging from ethnology over archaeology to history as well as craftmanship, which still inspires textile research as an interdisciplinary field.
Margrethe Hald understood that textile research could not be limited to just one particular scientific approach. She produced ground-breaking research by combining e.g. cultural history, art history, ethnology and archaeology. Her study travels to other geographical areas, especially South and Mesoamerica and the Middle East, was of vital importance for the development in her academic knowledge. The digitalisation of the c. 600 slides from the Margrethe Hald's archive spotlighted that most of the slides miss information on either place or time. However, using the newly discovered archival material from amongst other the National Archive, CTR will attempt to pair letters, passport stamps etc. to individual slides to make it possible to publish these correctly in connection with the other material.  In doing so, it would be possible to understand exactly what Margrethe Hald learned on her travels and how this influenced the results of her research.
As a continuation of the work done in 2019 when CTR's Margrethe Hald Archive was digitalized, a research group was formed at CTR in the beginning of 2020. Thanks to one more generous grant from Agnes Geijer's Foundation, a new research project on Margrethe Hald's pioneering work as a textile researcher and museum curator will commence in September 2020.
The research group will work on a one-year scale to prepare a study of the research made by Margrethe Hald. The project will revisit Hald's considerable research output, her immense private and professional correspondence in the Danish National Archive and the National Museum, travel logs and photographs in order to revitalize and create new understandings of her groundbreaking research.
The personal files and material for Margrethe Hald at the National Archives is particularly rich, consisting of 12+ archival boxes with personal papers, passports with travel stamps and personal letters. The material was made available to the public in 2013, 30 years after the death of Margrethe Hald, but has yet to be researched or used.
So far, the archival studies shows that Margrethe Hald had an unusual talent for cultural historical dissemination to both academics and the public. Her work included both technical analyses of archaeological textiles and reconstructions of ancient dress/costume. Her retirement from her position at the National Museum in Denmark in 1967 was marked with the large exhibition "Ancient looms", which was also shown at the Moesgaard Museum in Aarhus. In many ways, this exhibition was innovative within the field of dissemination in Danish museums. As a part of the project, CTR will also demonstrate Margrethe Hald's great impact in the museum dissemination as this topic has yet to be brought into the light.
CTR has therefore initialized a new research project and will, based on this material, focus on a number of interesting and important elements of Hald's life and research which are of importance to our times. In the beginning of 2020, CTR applied for funding for the project Margrethe Hald the Life and Work of a Textile Pioneer: new insights and perspectives and was granted the necessary funding by Agnes Geijers Fond.
The overall goal of the project is to actualise and contextualise Margrethe Hald as one of the pioneers of textile research, who represented a virtuoso interdisciplinarity that continues to define textile research today, as well as present her ground breaking research to a new generation of textile researchers.
The CTR research group consists of
Internal researchers
Contact
Project manager
Eva Andersson Strand
Docent, Director of CTR and assoc. prof. in archaeology
Saxo Institute